Products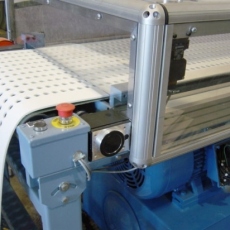 Hitch Feed Increment Press with Part Knock Out
The system has been designed to operate in three separate modes:
1. In what is referred to as strip mode, the system is configured to punch washers from hand-fed laminated sheets (called strips) of varying thicknesses. The washers, after being punched, remain in the substrate which is transferred to the end of the downstream conveyor. The sheet is then removed from the conveyor and the washers are withdrawn from the sheet manually.
2. In mode number two, (web mode) the configuration punches washers from a .25" thick web which is drawn from a roll loaded on a remotely located unwind unit. Part production utilizes a two-stage punch unit held in a bolster assembly that is mounted on the upper press platen. The center of the washer is punched in the first hit. Then the web advances one increment and the outer perimeter of the washer is punched in the second hit so that each time the press closes, a center and a perimeter is punched. The centers and finished parts each stack up and accumulate within their respective punch tubes and are removed from the system as they are forced to exit from the top of the punch tubes with each successive press cycle.
3. In mode number three, (also web mode) the system is configured to produce die cut rectangles from a .06" thick web also drawn into the system from a roll. In some instances, two webs can be processed concurrently. A knockout station located immediately downstream of the press cavity separates the cut parts from the substrate and deposits them upon a laterally operating conveyor. The scrap substrate is withdrawn from the press, and expelled from the downstream conveyor.