Products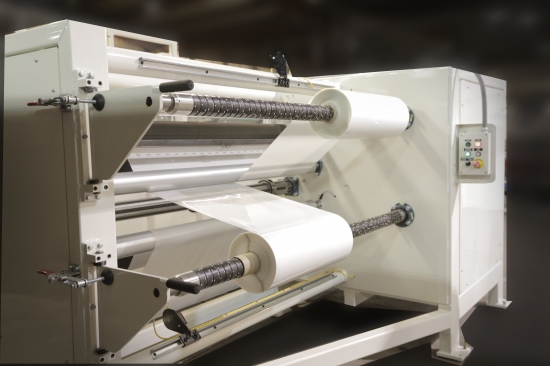 Custom Slitter Rewinder
60" Slitter Rewinder with 20" rewind diameter capacity. The system will use an unwind stand (see Unwind specification), and Tidland Class II E-Series Shear Slitting.
Tension controls managing the Drives on the rewinds, allow for independent tension control of #1 & #2 rewinds as well as the Differential Shafts giving equal tension to each roll on each shaft . Digital readout gives the capability to fine tune tension requirements. The control system allows programming a tapering tension value to adjust for the rewind roll diameter change during rewind. Core rewind tension can be adjusted "on the fly". A real time tension indicator is shown on the operator screen.
Micro PLC: Allows for a programmable length input. Giving you the ability to run off the whole roll, or convert a larger roll into several programmed to length rolls of material. With a set length on the roll, the system can be set to decelerate before it reaches the set stop point. The taper tension can also be set with the PLC interface.