Products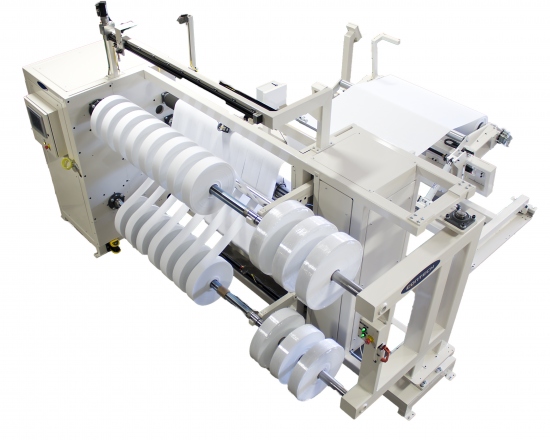 Custom Omega Slitter Rewinder System
The Omega Slitter Re-winder System pictured above offers a heavy duty unwind complete with Auto Roll Lift and Shaft-less capability. This unwind will be a stand alone unit that is attached to the slitter re-winder frame, which is a tubular steel frame unit, along with an operator catwalk for operator access, VFD drive, slitter assembly, and 3" dual spindle rewind. The control of the rewinding shaft is variable frequency drive with operator HMI to enter all machine functions (speed, decel, tension, length, etc.). The slitter blade that pushes on the side of a lower hardened anvil to create a rotating scissor cut is known more commonly as Rotary Shear Slitting.
Features:
20"-40" OD
40", 60", or 72" wide standard (custom widths available)
Cantilevered or drop in shaft design.
DT 600 FPM
Allen Bradley HMI/PLC controls
Operator interface with color monitor
PLC controlled sequence of operation with program storage
Options:
Slitting: Razor/ Score/ Shear
Differential Shafts
Unwinds: web guide, shaftless, Roll lift
Real time tension control
Laser reference indexing
Finish roll off-loader
Custom sizes available upon request.