Products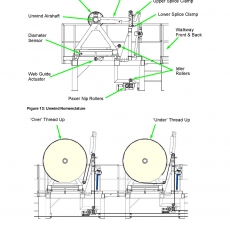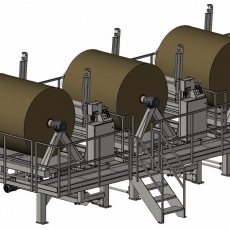 Contech Heavy Duty Powered A Frame Unwinds with Steel Tube Framing
Heavy duty Powered A frame unwinds using steel tube framing, electronic sensor, sensing roll diameter for unwinds, a 6"(150mm) air shaft and safety chuck on both ends of the drop in style shaft. A dedicated accumulator for each web path located in front of all unwinds. PID control to control between accumulators and VFD powered unwinds to pay off the web from each unwind. End of roll sensor, splice station, and operators platform with safety rails to access unwind controls and splice station. The PID on each of the accumulators will control the web tension and speed on each of the unwinds automatically. An automatic edge guide and E-stop will be mounted on each unwind. An additional 3 web guides between the accumulator and sheeter nip set for the back 3 unwinds, due to the distance from the sheeter nip set is also included.
There are a total of six unwind stands, all of which contain local side-shifting web-guiding systems. Three additional material web guides are provided at the accumulator station.
All of the stands provide support for a single material roll, electronic roll diameter monitoring, a roll braking system, a web splicing station, a pacer nip roller set, and a powered empty core lift.
Web tension is provided by a pneumatic disc drag brake. An electronic pressure valve that uses an ultrasonic sensor to measure individual roll diameter controls air pressure applied to each brake. A roll of maximum diameter will result in the maximum pressure applied to the disc brake. During operation as the roll diameter gradually decreases, the pressure applied to the brake will automatically decrease according to a preprogrammed rate. When the roll diameter sensor reaches the programmed diameter to annunciate a roll warning, the unwind will immediately stop paying out material and the machine will stop running after the completion of the next cycle. After this, the roll diameter warning can be overridden at the unwind's controls.
The feed rate of the pacer nip roller set is determined by the vertical position of the corresponding accumulator roller assembly. As the accumulator becomes empty the pacer speeds up, and as the accumulator becomes full the pacer slows down.
Each unwind stand will accommodate rolls of material that meet the following criteria: 1.6m (64") Maximum Roll Diameter 1.7m (67") Maximum Roll Width 0.62m (24") Minimum Roll Width
3,000 kg (6,600 lbs) Maximum Roll Weight 152mm (6") Core Diameter
A walkway is provided with stairs on the front side and ladders on the back for the operator to use during roll changing, web thread up, and splicing. Empty core lift arms are used to lift the empty airshaft with roll core out of the way, allowing quicker full roll replacement.