Products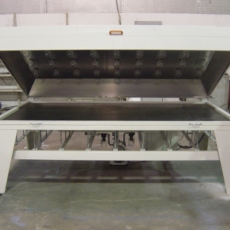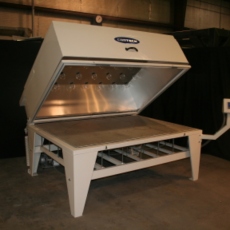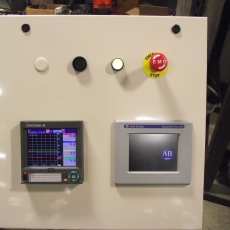 Galaxy HVA
Contech's Galaxy Heat Vacuum Applicator is an excellent option for manufacturers intending to apply laminates to the interior panels of aircraft. If you are interested in an efficient and affordable applicator, our Galaxy HVA line is a perfect solution.
The Galaxy HVA has precision leveled vacuum bed. This machine uses 375 watt inferred bulbs and a programmable controller to control heat temperature and heat and cool dwell times.
While atmospheric pressure on a rubber diaphragm presses the sheeting or film on the application surface, the heat produced by controlled infrared lamps activates the heat sensitive adhesives. This forms a permanent bond of the sheeting or film to the surface.
The applicators consist of three main parts:
1.) Vacuum Assembly: The rubber diaphragm mounted in a hinged metal frame. A perforated metal base plate permitting rapid air evacuation from the vacuum chamber.
2.) Vacuum Pump Assembly. The vacuum pump and motor are connected to the base plate with a vacuum hose.
3) Heat Assembly consists of 375 watt, 115 volt infrared heat lamps.
Every unit is built to customer specifications. Most customizations are available upon request.
Interested? Contact us.