Decor-Rest
Furniture
Decor-Rest Furniture
Traditional methods of getting a job done may have worked for years; but when efficiency is important improvements must be made. That holds true for furniture manufacturing as well as anything else.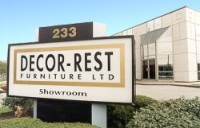 One company that is no exception is Canadian furniture manufacturer Decor-Rest Furniture. A Certified 9002 manufacturer of medium sized household furniture such as sofas, chairs and loveseats, Decor-Rest prides itself on high-quality products, just-in-time production capability, and same-day delivery capability for certain clients.
"We care for our furniture. We won't do it unless it's 100% right," said Angelo Marzilli Sr., owner and president.
In order to maintain efficiency improvements within the manufacturing process, Decor-Rest constantly evaluates each step in the procedure. One step revealed an opportunity to improve upon what was already a successful operation.
Part of their production process involves cutting different types of padding and linings. The padding can include "sizal" that sits on top of springs, "pallon" padding that is inserted inside the skirts that cover furniture feet, as well as others. Some of the materials that are used for the padding and linings include cotton, polyester, and nylon.
"The problem is that we were cutting the padding manually; we would lay it on a cutting table and cut it out with a knife… the process was slow," said Marzilli.
Decor-Rest set out to solve the problem, and asked CONTECH to help.
We had seen CONTECH's product at the Bobbin Show in Atlanta. We liked the product guarantee they offered, and the custom-work capability," said Marzilli.
Decor-Rest decided to purchase a custom designed system from CONTECH. The system included a 60" CONTECH EconoSheeter and a roll unwind to feed material to the EconoSheeter. The EconoSheeter is an air operated scissor shear sheeter capable of cutting a wide variety of materials such as foam, textiles, nonwovens and vinyl. The EconoSheeter is equipped with electronic controls which give the operator the ability to set the cut part length, batch number and part number. And the roll unwind is capable of handling a 100 lb., 36" diameter roll of material.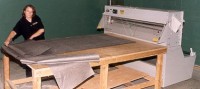 Decor-Rest has seen a definite production line efficiency improvement as a result of the new system from CONTECH.
"The new equipment can cut twice as much material as we could when we cut manually," said Marzilli, "and we've had no problems with the equipment. CONTECH responds immediately, they've treated us like we treat our customers. We would definitely buy from them again."