Hueston
Industries
Hueston Industries
Producing vibration damping material is hard work, but doing it manually is even harder. Hueston Industries Inc., a division of Damping Technologies Inc., was doing just that before they bought CONTECH equipment.
Located in Dayton, Ohio, Hueston Industries Inc. is a manufacturer of vibration damping material for the aerospace industry. The material used in this process is a combination laminate, consisting of aluminum and polymers. The finished product is used to absorb vibratory energy and dissipate it into negligible heat. What makes Hueston unique is that they are the only ones producing this product on a proprietary basis.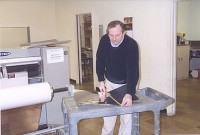 The process of producing the insulation has many stages. One stage in particular was measuring and cutting sheets of material to the size needed. The process was very time-consuming, and inefficient, slowing production and decreasing product output.
Jon Parin, plant manager for Hueston, started looking for used equipment at first and ran across a CONTECH sheeter in Texas that was over 10 years old. He called CONTECH and asked if there were any upgrades available and noticed even then that CONTECH was going to be helpful.
"CONTECH told me that there were some upgrades available to the old machine, they were very helpful in finding the answers to my questions," said Parin.
CONTECH also told Parin that they would be exhibiting at a trade show in New Orleans around the same time that he would be in Texas. CONTECH invited Parin to come down and take a look at what they could do for him. Parin did visit CONTECH in New Orleans, and to his surprise, the machine on display was exactly what he was looking for, a 40" CONTECH CompuSheeter.
"I would definitely purchase CONTECH equipment again. Their willingness to fit customer needs is unmatched," said Jon Parin, the plant manager.
"After seeing the machine in action, I made the decision to purchase the equipment right then and there," said Parin.
A minor modification needed to be made, the CompuSheeter needed to be fitted with a plate to hold down the material and keep it from curling before it was cut. CONTECH sold Hueston the display machine, with the special plate, and had it delivered to Hueston within 3 weeks!
"I was very impressed with the speed that CONTECH delivered the CompuSheeter with the modifications already made," said Parin, "CONTECH did not over-engineer, they really work with you to understand what you are trying to do."
Hueston was not only satisfied with the way CONTECH engineered the equipment, but was shocked by how easy the CompuSheeter was to set up and operate.
"When the CompuSheeter arrived, we spent about 4-5 hours for installation and setup. The equipment was up and running in less than 6 hours! I was simply amazed," said Parin.
Hueston has not only found the right equipment, the manufacturing process has been shortened as well. What used to take Hueston almost 4 hours to complete can now be done in 30 minutes to an hour.
"I would definitely purchase CONTECH equipment again. Their willingness to adapt their machines to fit customer needs is unmatched," said Parin, "they have the staff and the talent to meet customer needs at a fair price."