Allegiance
Healthcare
Allegiance Healthcare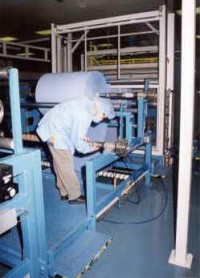 A new product design caused a problem for Allegiance Healthcare Corporation's El Paso plant. The plant, an Industry Week "Best Plant" award winner specializing in the manufacture of surgical and clean-room apparel, had been given a new nonwoven surgical drape design that it couldn't produce with its current equipment. In response, Allegiance decided to invest in a new machine: one that could be used for the new drapes, yet was flexible enough to be used for other designs.
"We looked around for the right machine, but we only found one company that was willing to accept the challenge of the nonwoven material." said Dan Swanberg, the El Paso plant's engineering manager.
The plant's products include surgical gowns, drapes, pouches, towels, hats, shoe-covers and scrubs. Also, the plant produces clean-room apparel for the semiconductor industry. Previously, their products had been successfully manufactured using the machines they already had. But the new drape design and its material posed a problem.
The material required was a thin, composite polyethylene film, with an embossed pattern that was susceptible to damage. Since it was nonwoven, as many of Allegiance Healthcare Corporation's products are, it had to be delicately handled during the manufacturing process.
"We eventually chose to purchase a sheeter/stacker system from CONTECH. Not only could they handle the material, but they had the attachments and engineering people to customize the system to whatever requirements we needed." said Swanberg, "I also remember speaking with some of CONTECH's customers at the CONTECH plant. I had the chance to see some of their equipment and hear how CONTECH solved their problems. I was impressed."
The plant purchased a sheeter/stacker system with six unwinds that was capable of making cuts up to 90 inches wide. Each unwind was capable of loading another full roll while in operation, facilitating continuous operation. The system also came complete with touch-screen control, an automated stacker, and an automated loading conveyor.
"For us it has been one of the most versatile machines that we have. We can run any of our materials on that machine. Manufacturing guys keep it reserved around the clock." said Swanberg.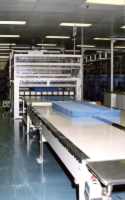 CONTECH didn't stop at merely designing and selling the equipment; CONTECH also installed and tested the sheeter before leaving it at the plant.
"CONTECH gave us extremely good field support," said Swanberg, "one of their field techs felt that there was an issue with the design of the stacking gripper. Instead of waiting until a problem occurred, the tech called the CONTECH factory, had the gripper re-designed, got the new parts, and installed them without being asked."
Swanberg was especially proud of how long the equipment has lasted.
"We bought the sheeter in April of 1993, and for the last four-and-a-half years it's been very reliable. No major problems, just a few stops for maintenance," said Swanberg, "we'd definitely buy another machine from CONTECH again, we just haven't needed to."